Welcome To The Family!
Welcome to Gold Coast Family Dental and thank you for choosing us! Whether you are here on an emergency, limited/comprehensive evaluation, or just a regular check-up, we appreciate your visit. We are committed to providing you with the highest quality dental care available in a friendly and comfortable atmosphere. We pride ourselves on having a state-of-the-art facility and offer our patients the latest advancements in dental care.
Outstanding personalized dental care is what our patients deserve. We begin by LISTENING to your concerns as well as your needs and then we provide treatment options to help you achieve your optimal dental health and smile. TRUST defines the level of quality of care that our entire team strives for. We welcome you to our family.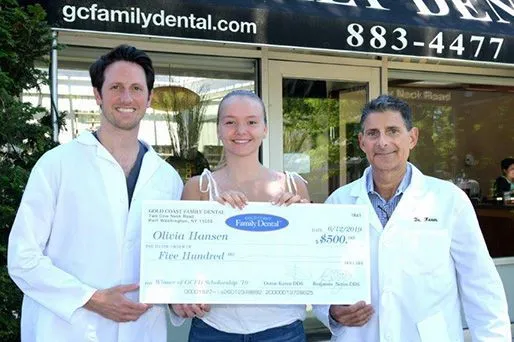 Congratulations to Olivia Hansen!
Our 2019 Gold Coast Family Dental Scholarship winner.
Best of luck from Drs' Keren, Neren and staff.